Power Electronic Laboratory
Power electronic laboratory of the Science and Technology Park of East-Azarbayjan province is located in Shariyar 3 building in which the laboratory has been established in an appropriate place called innovation center. Taking advantage of the electronic laboratory facilities is essential for all of the individuals who are busy in the electricity fields. Because of this necessity an electronic laboratory equipped with approximately developed facilities has been established in East-Azarbayjan Science and Technology Park so that all users can use these facilities.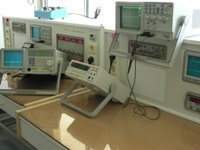 The purpose of the establishment of the laboratory facilities in the Park:
To attract innovative units and to meet the need of these units to laboratory facilities, Scientific Parks are charged with providing them with primary facilities so that these units can have access to these facilities in their workplace.
Users:
Settled centers and institutions
Public and private centers and companies
University researchers and research centers
Assignment process of the laboratory facilities:
According to the ratification of the board of directors, the assignment of power electronic laboratory is based on a definite tariff through which users have to fill the specific form to use the laboratory and having coordinated with the laboratory authority they can utilize its facilities. All of the equipment required by the innovative unit is delivered to the unit by the laboratory and at the end of the work the equipment is given back to the laboratory authority and the users or innovative units are responsible for any kinds of damage and breakdown made in the equipment.

Assignment process of the laboratory facilities to the scientific centers and other public and non-public organizations:
In these cases based on a convention held between requesting organization and the laboratory, the laboratory equipment required is given to the organization in certain hours and at the end of the work they are returned to the laboratory authority. Acceptors of these kinds of services mostly are Azad university small units located nearby the province center.
List of the equipment:
Multimeter (12 units)
Dielectric breakdown cable voltage tester (1 unit)
Two-user laboratory table (8 units)
Double tracking 30V power supply (4 units)
Digital 7/2GHZ frequency meter (6 units)
Wattmeter (2 units)
Digital 2 MHZ function generator with modulation (8 units)
Curve tracer (1 unit)
Clamp meter with ACA ACV DCV ohm measuring capability (1 unit)
1 GHZ Spectrum analyzer (1 unit)
1000 V power supply (1 unit)
Insulation resistance tester and AC/DC voltage tester (1 unit)
Programmable electronic load (1 unit)
30MHZ 2-channel storage oscilloscope (10 units)
12 &24 Volt power supply (8 units)
Bread-board (80 units)
Amper meter /Ammeter (2 units)